Synopsis
Starring Celia Imrie, Shannon Tarbet, Shelley Conn, Rupert Penry Jones and Bill Paterson.
With a special appearance by Candice Brown.
Determined to fulfil her late mother's dream of opening a bakery in charming Notting Hill, 19-year-old Clarissa enlists the help of her mother's best friend Isabella and her eccentric estranged grandmother Mimi.
Three generations of women will need to overcome grief, doubts and differences to honour the memory of their beloved Sarah while embarking on a journey to establish a London bakery filled with love, hope and colourful pastries from all over the world.
Film Credits
Starring:
Shelley Conn
Shannon Tarbet
Rupert Penry-Jones
Celia Imrie
Bill Paterson
Grace Calder
More Information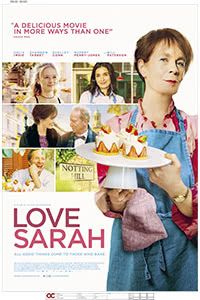 Rating:
12A
12A Certificate
Films classified 12A have been deemed appropriate for viewers of twelve and over. However, they can also be seen by younger children - provided they are accompanied by an adult who has deemed the film appropriate viewing for that child. In such cases, IFCO strongly recommends that parents/guardians make informed decisions by accessing the consumer advice available on this website.
Advisory:
infrequent strong language, moderate sex references, brief drug misuse
Released:
7 September 2020